At Dwyer Williams Dretke PC, we understand the inherent risk that every motorcyclist faces: not only are riders more exposed than drivers of passenger vehicles, but motorcycles are also less visible and less stable than enclosed motorized vehicles. Every time that a motorcyclist climbs onto her ride, she is undertaking certain risks that drivers of cars, trucks, and SUVs never face.  It doesn't come as much of a surprise that motorcycles constitute only 3 percent of vehicles on the road while they account for 13 percent of all motor vehicle fatalities.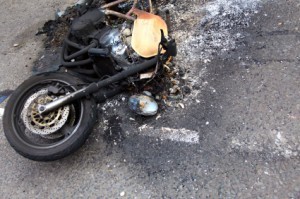 We frequently represent clients who have been involved in devastating motorcycle accidents and who would not have suffered significant consequences had they been in a passenger vehicle. When confronted with a negligent driver or a poorly maintained roadway, there is little if any margin for error for motorcycle drivers.
Unique roadway risks facing motorcyclists include:
Absence of protection from a vehicle's frame
Lack of safety equipment, such as seat belts, roll-bars, or airbags
Instability, particularly when riders make sudden evasive maneuvers
Decreased reaction time when confronted with road hazards or negligent drivers
Inability to be observed easily in blind spots due to small, narrow size
If you have been injured in an Oregon motorcycle accident and you need help, call our law firm at 541-617-0555 or visit one of our offices located throughout the state of Oregon.